MEGAMAX ATSUGI STORE
Astugi Trellis (1F), 5-31-1 Tomuro, Atsugi-shi, Kanagawa prefecture 243-0013
Telephone. 046-225-7255 (main)
fax. 046-225-8455
E-mail. megamaxat@kagu.co.jp
Opening Hours:

am10:30-pm8:00

Regular closing days:

Open all year round (except for unscheduled closures)
Parking:

Parking:about 1500 (atsugi Trellis)
ACCESS
---
Public transport:
From Hon-Astsugi station on the Odakyu Line, take a Kanachu Bus in the direction of Midorigaoka or Tokyo Polytechnic University. After 10-15 minutes, get off at Anritsu-mae. MEGAMAX is one minute walk from the bus stop.



BY CAR
---
From the Atsugi interchange:
Get off the expressway at the Atsugi interchange and take national highway route 246 in the direction of Shibuya. Turn left into the side road after the post office (just before the Mizuhiki intersection) and go straight ahead past Atsugi High School and Unisia Genix. MEGAMAX is on the right.
FLOOR GUIDE
Items are laid out in-store according to each product category.
There are floor maps available at in-store information points and leaflets handed out at the entrance to the store to show you roughly where each section is located.
Kid's Video Corner
A mini theme park for our younger customers, complete with picture books to keep them entertained!
Cafe
With such an enormous store to explore, why not stop for a breather?
Stop and relax with a free drink of your choice.
* The cafe is closed for maintenance on Tuesdays.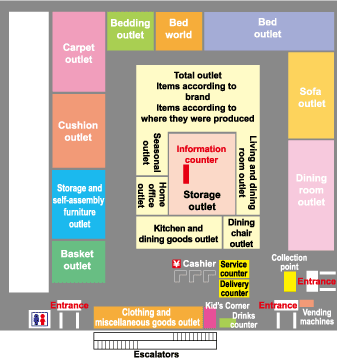 ---
ABOUT CHIBA NT STORE
Opening Hours:[Weekday]10:30-19:30/[Holiday]10:00-20:00
Regular closing days:Open all year round (except for unscheduled closures)
Address:5-1 Nishinohara, Inzai-shi, Chiba prefecture 270-1334
tel. 0476-48-5255
fax.0476-48-5355
E-mail
info@megamax.jp